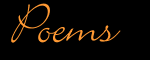 About new work by Laurel Blossom in the
Los Angeles Review
online: Carol Muske-Dukes calls the poems "sparkling." Sean Sexton, Poet Laureate of Indian River County, Florida, says of them: "You always show us we have not yet begun to speak."
Laurel Blossom's lyric poems are collected in four volumes, the latest of which is
Wednesday: New and Selected Poems
.
Contact Laurel
now to order your copy!
Thomas Lux has this to say about
Wednesday: New and Selected Poems
: "Laurel Blossom's New and Selected Poems, with its generous selection of first-rate new poems and poems culled from three previous volumes, is a gift to anyone who reads and loves poetry. This is a book of paradox...a book of acceptance and reconciliation...a book of humor and joy...a deeply moving and skillful book written by a grown up American woman. Read it and weep. Read it and sing."
Laurel Blossom's earlier books include
Any Minute
(a chapbook),
What's Wrong
, and
The Papers Said
. Her work has appeared in many journals, including
The Paris Review
,
American Poetry Review
,
Harper's
,
Heliotrope
,
Poetry
,
Pequod
,
Deadsnake Apotheosis
,
Many Mountains Moving
,
The Seneca Review
, and others. Online her poems can be found at
Taos Journal of International Poetry & Art
,
Frigg
,
Tupelo Quarterly 2
,
xconnect
,
www.winningwriters.com
,
www.poetz.com
,
International Psychoanalysis
, and
Per Contra
. Anthologies that have included her work are, among others,
180 More: Extraordinary Poems for Every Day
;
More Light: Father and Daughter Poems
;
American Sports Poems
;
Sometime the Cow Kick Your Head
; and
Lights! Camera! Poetry!
Excerpts from
Degrees of Latitude
, can be found at
www.friggmagazine.com
and in
xconnect
Volume VI. Order
Degrees of Latitude
from
Four Way Books
now!
Excerpts from
Longevity
(
Four Way Books
) may be found at
Frigg Magazine #43
,
Tupelo Quarterly 2
,
Linnet's Wings Summer 2014
, and
Hotel Amerika #43
. Order
Longevity
from
Four Way Books
.
---
Back to top
Now is the Winter of Our Discontent

    But then, Miss Priss, when you and I have given up
    Ambition and our claws, we'll sit around all day
    Indoors, purring and pouting.  As for the world abroad,
    Let them have their dogs, their kingdoms and their horses.

	Originally published in the Los Angeles Review online, June 2018.

	
Back to top

				(Because of how/ the quick/ become the dead.)
							Patrick Donnelly


		(Because of how
	quick the quick
		become the dead.)

		(Because of how
	dead the quick 
		become.)

		(Because of how
	quick the dead 
		become
		
				unbecoming.)

Originally published in the Los Angeles Review online, June 2018.

	
Back to top

All the water mains burst
Forth, singing
The rats ran
Everywhere, squealing in
Rhyme, and the cockroaches

Tweeted to their neighbors while
Heaven turned itself into Hell on
Earth. From where the sky had been

Each star bored into the ground like an
X-ray so that the
Ploughed fields were pockmarked with
Lozenges of lead, none could smell the
Ozone that sparked from electrical
Systems gone haywire, while
In the meantime, the purple pot stood
On the window sill, holding the
Nasturtiums.

Originally published in the Los Angeles Review online, June 2018.

	
Back to top
for Jason Shinder (1955-2008)

    I can see you now
    shaking hands as you both

    ascend, you're cracking a joke about
    being Jewish, the word

    levitation, how he did in three days
    what it's taken you three long years

    to accomplish, astonished, so pleased
    to meet him, celebrity

    subject of two millennia's worth
    of art and poetry, God bless, some great, most

    not so, and you, so afraid you'd be
    forgotten, suddenly

    seated at the right hand, beaming, best friends,
    waving like a royal, not believing

    your good fortune but letting the words fall
    lightly from your lips,

    but lofty, but lovely, upon us bereft, left
    wanting here below, God bless, God bless, God bless.
	
	Winner of the 2013 Constance E. Pultz Award from the Poetry Society of South Carolina
	
	
	
Back to top

	In Kenya they have two paved highways.
	Commuters throw garbage out the windows to baboons
	so used to being fed this way
	they wait at intervals like pets or trashcans.
	One day a man threw out an orange
	he'd filled with chili powder just for the hell of it
	
	to see what would happen (it
	rolled in the red dust at the highway's
	edge) because the man hated those fucking baboons
	or whatever the word is in Swahili, the way
	they jerk off at the side of the road, or show their 
		 disgusting red cans
	to each other, and this one not especially orange
	
	orange
	got picked up by one of those fuckers, who pushed it
	into his mouth and bit down.  The white man in the green car 
		 on the liquid red highway
	under the burning blue sky (or whatever the baboon
	word is for hellfire) -- the man in the green car went 
		 his way.
	Baboons scream as only baboons can.
	
	The man felt merciful: no more living trashcans.
	He forgave his wife.  As the sky turned the brilliant orange
	of an African sunset, he drove home.  It
	gratified him to see the sides of the highway
	deserted, the entire baboon
	population he'd driven away.
	
	For a while, he went out of his way
	to be nice to his wife and children.  He let them 
		 watch American
	T.V.; on the weekend he bought a six-pack of orange
	pop, packed it
	in the car and took them all for a drive along the highway.
	Of course the baboons
	
	were back; he expected that.  Baboon
	Attacks, however, he did not expect, especially the way
	it seemed to recognize the green car (uncanny,
	the papers called it), hurled itself at the open window 
		 when an orange
	shape glistened briefly there, and ripped the man's throat out.  Call it
	whatever you like, poetic justice, but people aren't safe 
		 on the nation's highways,
	
	the papers said.
	
	Originally published in the New York Quarterly #43, Fall 1990
	
	
	
Back to top

	Even the light, exhausted
	hours before it reaches the horizon, crawls up each morning
	over the edge and collapses
	
	flat out.  Like a lung.  It's February.
	People are cold and unsympathetic.  They want the sun
	to set an example, bright, on time,
	
	everyone doing the jobs they were hired to do.
	This is the wrong time of year to talk reasons.
	If a woman sleeps through
	
	the alarm and the phone calls and the husband trying
	to bring her to: so what?  The world
	is a sickness we succumb to daily, our own need
	
	pulling us in.  It takes courage
	to listen to the details, what's the food like,
	how does the routine work in this place,
	where's the other way out.
	
	First published in American Poetry Review, Vol. 15, #1, January/February 1986

	
Back to top

	I miss the crouch, if there is one, 
	the long legs bending
	backwards, or the wings 
	making any motion whatever, 
	other than to spread, 
	the head and neck stretching slightly
	upward or out.  
		All I see, 
	when I'm lucky, is the body 
	whole, lifting 
	off the water, around the bend,
	banking, effortless, 
	towards the source 
	upstream.
	
	Originally published in the anthology, Poetry of the Golden Generation, Volume IV, Kennesaw Statue University, 2008
	
Back to top
No radio
in car

No radio on board

No radio
Already stolen

Absolutely no radio!

Radio broken
Alarm is set
To go off

No radio
No money

No radio
No valuables

No radio or
valuables
in car or trunk

No radio
Stolen 3X

No radio
Empty trunk
Empty glove compartment
Honest

In car
Nothing of value

No radio
No nuthin
(No kidding)

Radio Broken
Nothing Left!

Radio Gone
Note Hole in Dashboard

Warning!
Radio Will Not Play
When Removed
Security Code Required

Would you keep
Anything valuable
On this wreck?

No valuables
In this van

Please do not
Break in
Unnecessarily

Thank you
For your kind
Consideration

Nothing of value
in car
No radio
No tapes
No telephone

The Papers Said, Greenhouse Review Press, 1993


Back to top

	I tied it to your wrist
	With a pretty pink bow, torn off
	
	By the first little tug of wind.
	I'm sorry.
	
	I jumped to catch it, but not soon enough.
	It darted away.
	
	It still looked large and almost within reach.
	Like a heart.
	
	Watch, I said.
	You squinted your little eyes.
	
	The balloon looked happy, waving
	Good-bye.
	
	The sky is very high today, I said. 
	Red went black, a polka dot, 
	
	Then not.  We watched it, 
	Even though we couldn't 
	
	Spot it anymore at all.  
	Even after that.
	
	Originally published in Pleiades, 31.1, 2011.

	

	Selected by Ted Kooser, former Poet Laureate of the United States, for his project, American Life in Poetry, and distributed to newspapers nationwide on April 16, 2012.